As War Wages On in Ukraine, Global Steel Industry is Impacted
For more reasons than we can count, war is an ugly and devastating ordeal that wreaks economic havoc. The Russian invasion of Ukraine has induced pain and suffering not just for the Ukrainian people, but for the whole world. Destruction, trauma, and potential food shortages extend through the Middle East and Africa which receive large agricultural exports from Ukraine.
With the hardships of war, economic struggles are expected. Among the supply chain disruptions prompted by the conflict is its effect on the steel industry. One of the largest metallurgical plants in Europe is located in Ukraine. Most industrial production in Ukraine has been suspended, including most steel plants. Restarting the damaged facilities could take months or even years. GMK Center, a Ukrainian-based and steelworking-focused analytics group, estimates that 90% of Ukrainian steelmaking capacities are no longer operational. On the other side of the conflict, Russia's steel production continues; however, many countries are boycotting trade with Russia. As a result, steel prices are rising and commodities such as nickel are trading at a tremendous price. Could steel turn into a luxury commodity?
Ukraine is the eighth largest steel producer in the world, while Russia is the third. Combined, they are the second greatest steel exporter globally, only falling behind China. With these steel titans struggling, the industry suffers greatly.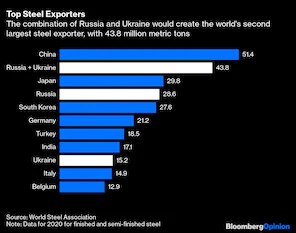 In Europe, about 40% of steel production is a result of electric-arc furnaces, rather than blast furnaces. As the name suggests, these furnaces are powered by electricity. Production through the electric-arc furnaces is much cleaner and is considered by many to be the future of steel production. With the war, however, electricity prices are rising at frightening rates due to the similar rise in gas prices. As a result, this cleaner means of production is becoming less convenient. 
As Ukraine and its people continue to suffer through the war, so, too, does the steel industry. Steel is an essential aspect to many industries (automotive, construction, infrastructure, etc.); these ramifications faced by the steel industry will have global implications.
Story via:
Author
Posted
26th April 2022
Next Article
The JMS Team Grows Bigger
On March 16th, 2022, the JMS Team was fortunate to welcome aboard Amlan Borkakati as a software support analyst. Amlan joins the team with a great deal of experience in…