Drilltech UAE Adopts iMetal ERP System and Realizes Immediate Growth and New Opportunities
Drilltech UAE – A Bit of Background
Drilltech UAE (Drilltech Oilfield Equipment Manufacturing and Services LLC) is a premier provider of oil field engineering solutions with locations in Abu Dhabi and Dubai. It is owned by the AJ Al Asmawi Group of Companies, one of the largest business conglomerates in the region
"Through the last 50 years, AJ Al Asmawi Group has developed lucrative projects and ventures in Dubai's bustling, modern business eco-system. We strive to provide service excellence and a unique experience to all clients through our professional and passionate teams" 
Drilltech isn't just your typical steel stockholder. They also offer detailed CNC machining of products created from speciality metals and sourced from mills and local stockholders. The material that Drilltech manufactures and sells is a bit more intricate than the standard angle, channel, or beam that many in the metals industry are familiar with. Due to the intricacy of these products and the importance of consistency, quality control is crucial to Drilltech. Their commitment to their quality policy is highlighted on their website and it is clear that they take pride in the quality of their work and their commitment to improvement. Drilltech was in need of a system that was not just reliable and accurate when it came to tracking materials, specifications, and certifications across their entire inventory, but a system that would also provide useful reporting for every stage of the process.
Enter iMetal – Provider of Solutions
The original reason Drilltech decided to install iMetal was because of the easy traceability. iMetal's precision accurate data recording gave Drilltech the ability to track the status of each and every order without needing to rely on any single department in the process. iMetal's reporting proved to be even more helpful than they had originally hoped. With iMetal's expansive reporting, Drilltech is able to monitor their entire production process with ease, allowing the team to identify issues or delays immediately and resolve them before they can further escalate.
Drilltech emphasized that they needed a system as soon as possible and the JMS team rose to the challenge. From conception to Go-Live, the implementation and training of iMetal took about 8 weeks. This included three weeks of on-site training provided by the JMS support team.
Mark Beard, an experienced Jonas Metals Software consultant and iMetal specialist was on site for the implementation and worked with Drilltech's team to design the system to be tailored to their needs. For the final end-user training, Mark and the Drilltech team were joined by another member of JMS, professional services manager Nigel Johnson. Mark and Nigel made a great team and helped get Drilltech familiar with iMetal within the target go-live range.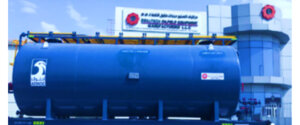 Tarek Oudeh, GM of the Dubai plant, was a bit astonished to see how much of a change iMetal could make for Drilltech and how quickly those changes were realized. 
"I believe this is very useful in retrieving order information at any stage without relying on a specific process team. Tracking status is also very useful for planning upcoming tasks even before releasing an order. Delays are reduced, and public awareness of a released order is increased. It is extremely useful for developing a proper process plan because it displays the load on each and every machine in the facility, as well as the tasks scheduled in them on a date-by-date basis."

– Tarek Oudeh
To Tarek, the most important feature of iMetal is report generation. By holding each member of the team accountable for updating their processes to reports, communication and teamwork have become focal points of their success. 
The JMS Team is elated to partner with such an intelligent and hard-working organization as Drilltech UAE to provide practical software solutions that make an immediate difference. With the iMetal platform now implemented in sites across the UK, North America, and the Middle East, JMS is proud of its growth. We only hope that our next opportunity is to offer our software solutions to you!
Author
Posted
28th September 2022
Next Article
Come Visit Us at the UK Metals Expo – September 14-15, 2022
Save the date! On the 14th and 15th of September, we are excited to be attending The UK Metals Expo at the NEC in Birmingham, UK. This free-to-attend expo is…